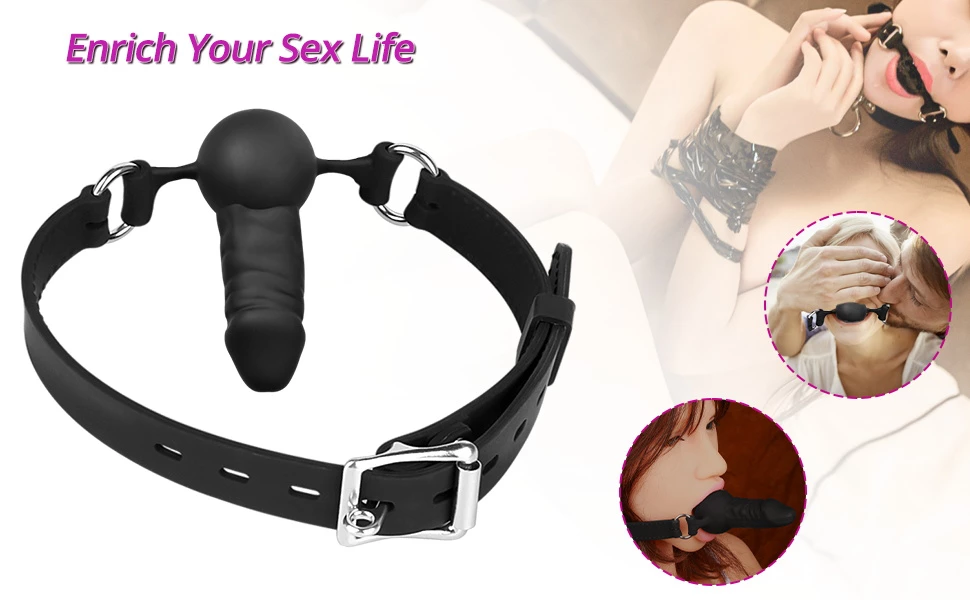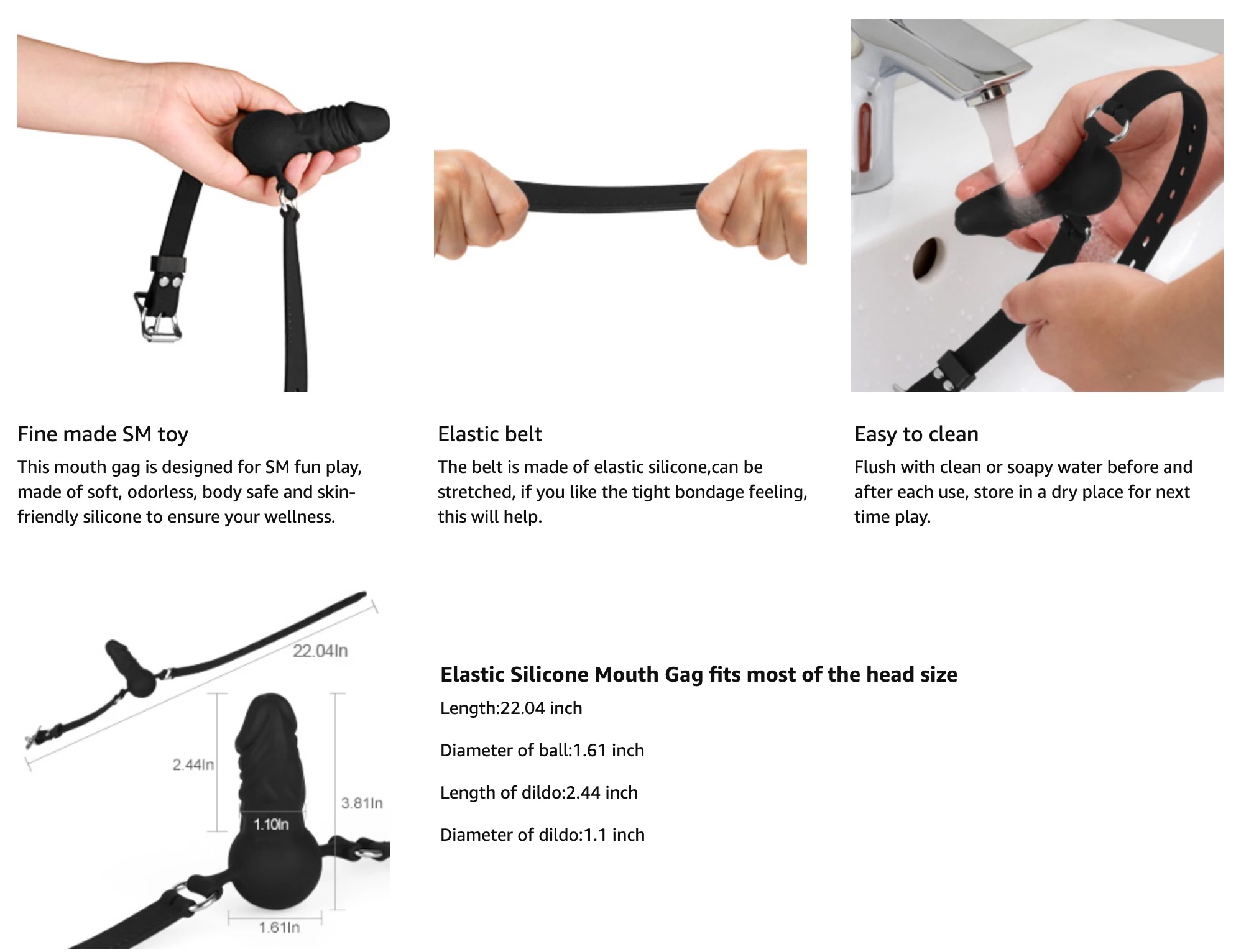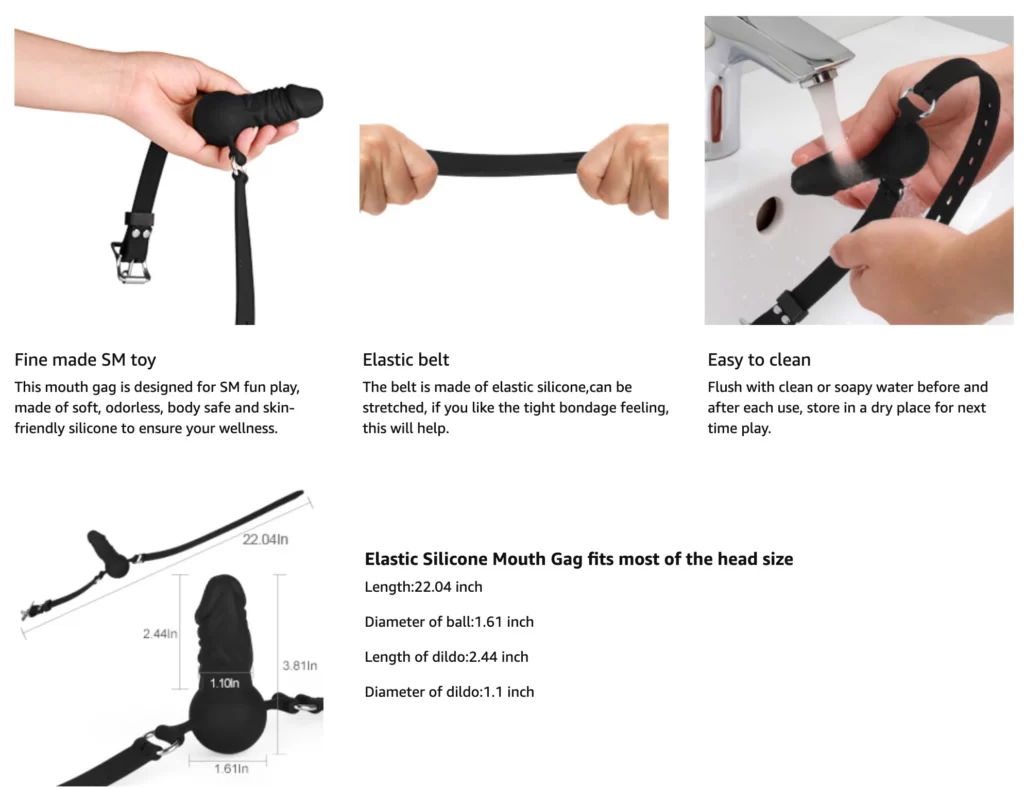 Strap On Mouth Gag Features:
Belt buckle, you can adjust the belt length between 14'' and 20''. (do not advise a beginner to be oral, better for experienced players.)
Includes plug and ball, so you have two ways to wear it.
Internal for flexible solid silicone and the realistic detail offer fantastic stimulation.
Made of high-quality silicone, it offers guaranteed care and maximum safety.
Secret Package and Notice: This Strap On Mouth Gag is neatly packaged in discreet packaging. No sensitive words. Protect your privacy. It is intended for use and purchase by adults 18 and older.
Story about Strap On Mouth Gag:
Silicone Realistic Dildo Gag with Ball, Adjustable Strap on Mouth Gag for SM Bondage.
The Silicone Realistic Dildo Gag with Ball is a great gag for beginners and experienced bondage players alike. This harness strap-on dildo features an adjustable strap that fits most sizes and allows for comfortable wear during extended playtime! The silicone dong is firm enough to keep her quiet yet flexible sufficient to ensure comfort during wear.
The Strap On Mouth Gag is soft and pliable and has a hole in the center, so you can use it as a muzzle or just let your sub breath through it while they take the whole thing in their mouth. All in all, this is one of the best gags we have had the pleasure of reviewing. This gag will last you years, if not decades!
The Silicone Realistic Dildo Gag with Ball is made from 100% pure high-grade silicone, which means it's body safe and hypoallergenic as well as latex free and non-porous, so you don't have to worry about bacteria building up inside of it! Our silicone products are straightforward to clean. Just wash them with soap and warm water, or throw them in the top rack of your dishwasher! You can also use any type of lube with these toys!
Customer Review:
This gag is perfect for veteran players. With newbies, it may cause gag reflex and breath difficulty (and therefore cause panic). But if you know what you are doing, this is just the dream toy you are looking for.
For decades I have been looking for a perfect gag that renders maximum pleasure and punishment at the same time. Most mouth gaps have two issues: 1) They can be easily spitted out. Human mouth muscles are flexible, and the tongue is powerful. Normal mouth gaps, no matter how tight you put it on, the sub can move her/his jaw and spit it out.
You'll have to apply duct tape(risky) or a fact harness(complicated and may get loosed up) to prevent spit-out. This gap is such an easy solution to the headache problem. It has a long enough part inside, and even if you apply it loosely (recommended for first-time users), it is impossible to spit it out.
2) most gags do not seem entirely mute the sub. Even if you apply a face harness and the sub cannot spit the gag out, she/he can still move her tongue quite freely and make sounds that are audible and sometimes understandable. So, most gags do not entirely deprive a sub's desire to "talk" or at least try to communicate by making some noise.
With its inside part pushing down your tongue, this gag makes it impossible for you to make any identifiable voice, except for a monotone of "hmmm.." It puts the sub in a desperate situation where she/he will be totally under the top's mercy.
This Strap On Mouth Gag is also a great training toy for those who want to practice deep throat, particularly for a forced-bi scene.
Tips #1:
Apply it loosely the first time.
Leave it on for a minimum of 10 minutes, perhaps half hours.
Slowly tighten it up in the following sessions.
This helps you to become insensitive and get rid of your gag reflex.
Tips #2: if you feel difficult to breathe, breathe in through your nose but breathe out through your mouth. Over time, your throat will adjust, and you shall be able to live almost normally through your nose.