If you want to manually DIY a horse dildo yourself, then this little story can help you. DIY a dildo not only exercises hands-on skills but also saves money, a horse dildo is usually more expensive. Of course, this DIY process will certainly not cost too much money, fully appreciating the fun of saving money and doing it.
FIRST GET A MODEL
It helps if you have a 3D printer because we will be using a 3D printer in the DIY process. Fortunately, I have several 3D printers, so making my model is no longer a dream.
I was lucky enough to get a model provided by clams.
The MODEL download address is:
https://www.mediafire.com/folder/nzzrwj3xvo51c/Horse_Cock_STL_Files
If the above link is not working, please directly download it from our website:
Up to this point, I prepared everything and then started to make the model, I divided it into three parts, the shaft, the head, and the base, and then the time to also prepare the model for molding.
PREPARE THE MODEL
Gluing the three watering pieces together, using CA glue, need to have the assistance of an accelerator.
Because 3D printing has layers, I chose to use sand to eliminate the visible layer lines so that the print will come out very well.
Apply CA glue so that the primer will set faster, the gaps will fill better, and you can sand it to a glossy finish with a mirror effect.
Using candle wax, apply a release agent to the surface (candle wax is cheap). Rub a solid piece on each surface and use a lighter to melt them all, repeating several times to make it flat and smooth.
Here is the resulting picture.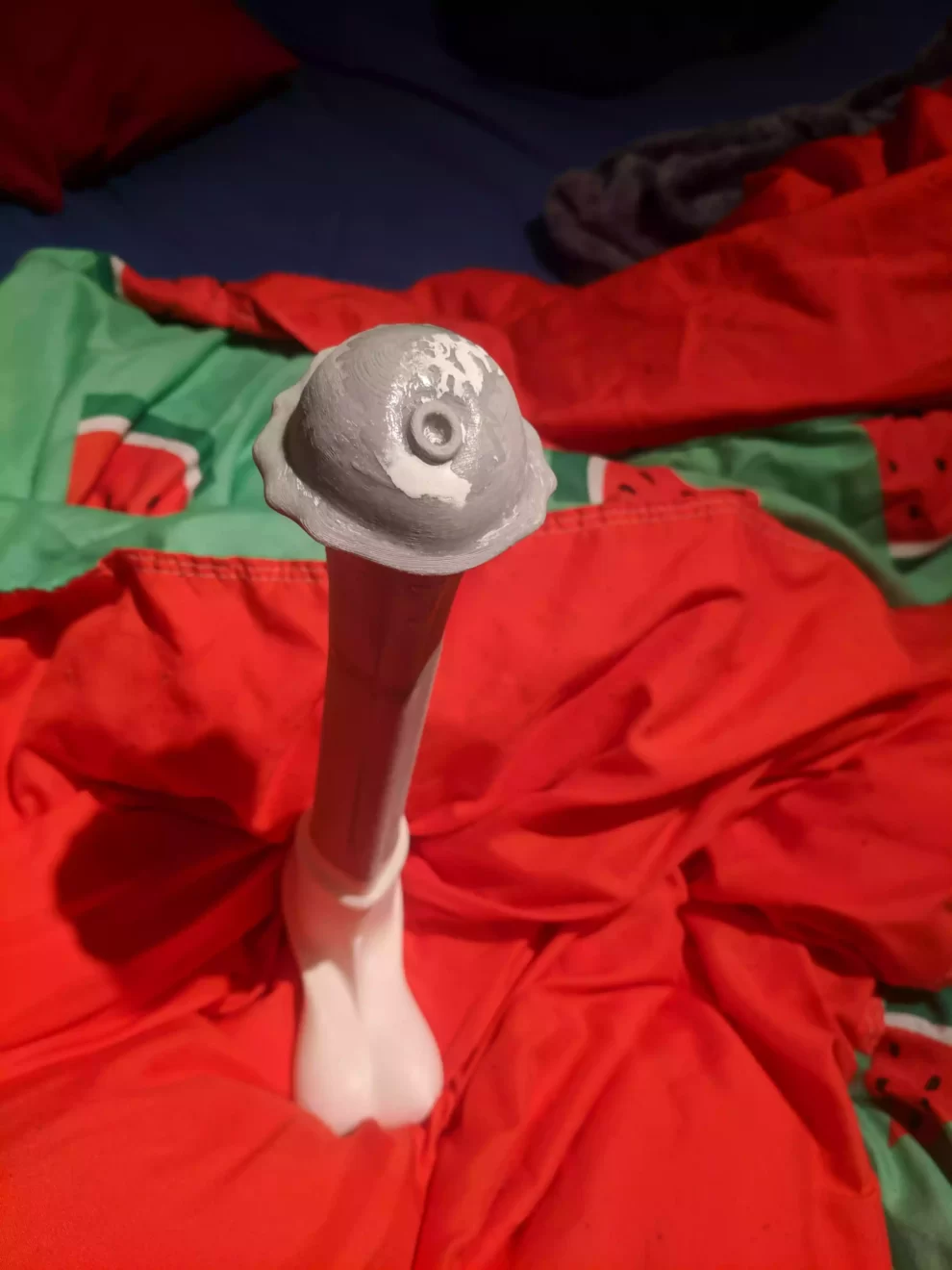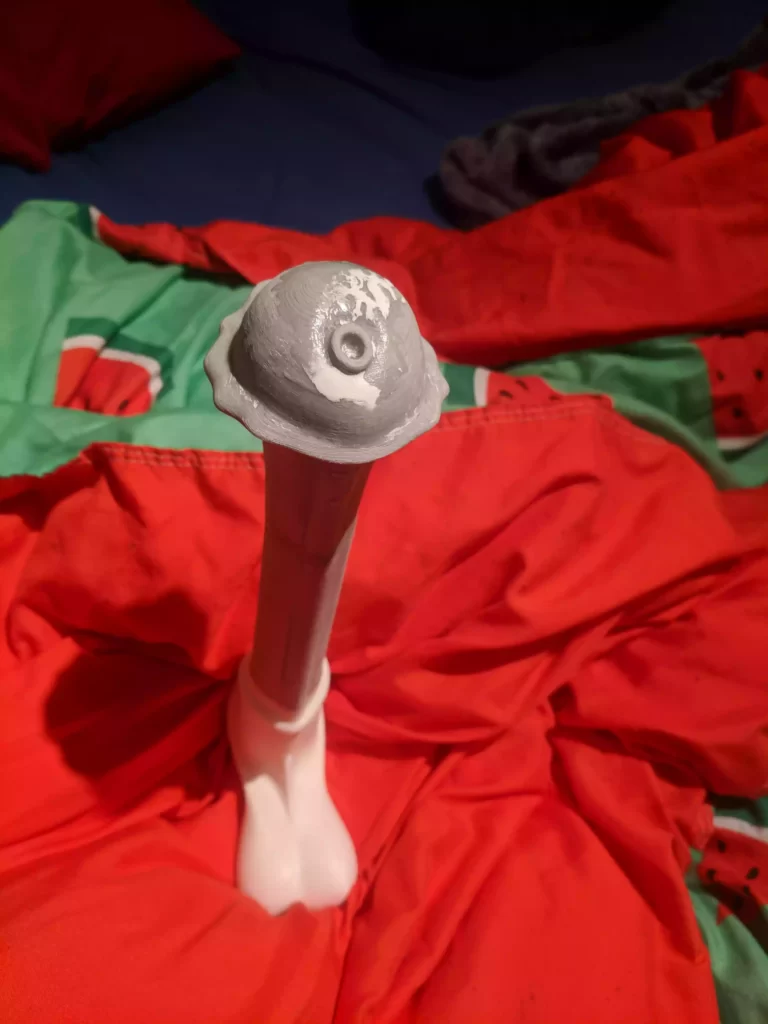 MOLDING
Then comes the process of mold making, using the dollar store method to do it. Using housing silicone (also called silicone caulk), the silicone caulk used must be 100% silicone, which is usually the clear stuff, so be sure to read the label and make sure it's "100% silicone".
There are several tests we need to do to ensure safety.
Whether it has toxins, you can put it in the bathtub, and observe whether the small fish are safe, if the small fish died after a few minutes, then this silicone is unsafe and is a toxic poison.
Does it contain additives that change the curing behavior (this is almost all non-transparent, as well as some transparent silicones)?
These are two things to look out for, you don't want a toxic dildo.
There are many articles on the Internet about mistakes with silicone caulk, here I share the best way to design a dildo.
Prepare the following materials.
100% clear kind silicone.
Xylene (use nitrile gloves, lots of ventilation, and wear protection!). Wear a mask, lots of ventilation, nitrile gloves, glasses, etc. – this can be replaced with low odor turpentine or less toxic white wine, but I prefer the volatility of xylene.)
Corn starch
Water-based acrylic paint (must be water-based, can be any color)
Distilled water
[OPTIONAL] Glycerin (skin care products from the drugstore/pharmacy/grocery store)
[OPTIONAL] some plastic cups to mix it all up.
Mixing instructions are a little quick and loose, but usually, they are. Silicone + cornstarch in a 1:1.5 ratio (more for thicker, less for thinner)
2-5 drops of acrylic paint (water will help it set and you can see how much you're covering)
15-20 drops of distilled water (it will cure much faster)
10:1 ratio of silicone mixture to xylene, or 10:2 for the first "glamour" coat (take your time and mix carefully; remember, you can always add more, but once it's in it's hard to remove. (Xylene helps thin the mix, but evaporates very quickly.)
[OPTIONAL] 2-5 drops of silicone (will help with the long-term cure of the mold, but will also soften it, which may or may not be a problem for some molds)
Mix it all until it goes from a mess to a smooth mixture, takes about 20 minutes to work with, then it gets very thick again, don't worry too much about the foam, cornstarch helps a lot with this.
APPLICATION
Use a paintbrush to apply a very thin amount over the entire mold, making sure you get it into all the crevices and corners; then use a hair dryer to let it set a little, then scoop up more with the paintbrush and try to apply it evenly and randomly over the entire model, if there are dents and crevices more will need to be added. Curing time will vary with temperature and humidity, but I've had results of 2.5-5.5 hours/layer (faster if you add less xylene and more water). Make sure to let it cure in a humid, well-ventilated (if possible), and warm place.
This is what happens after one layer: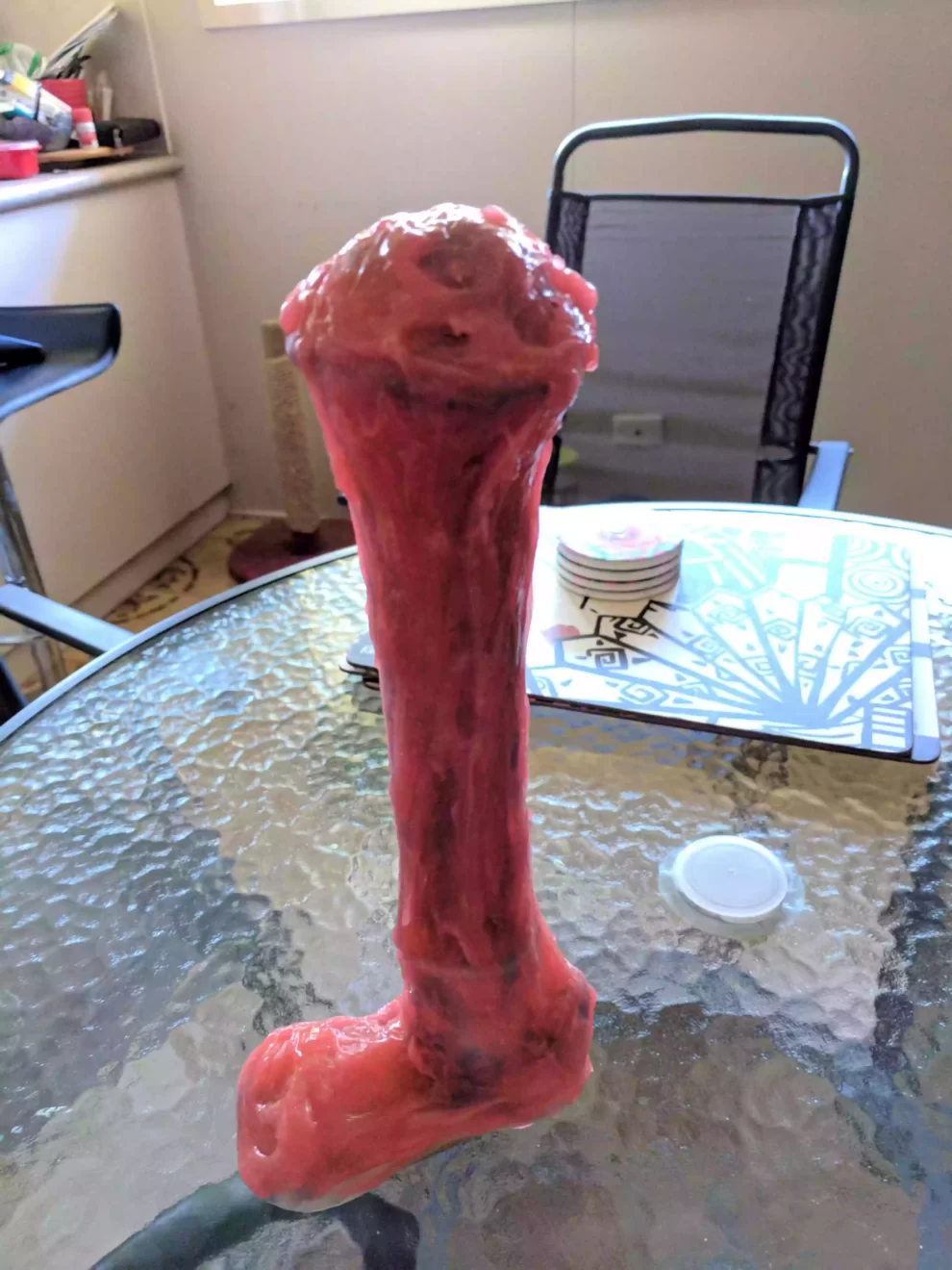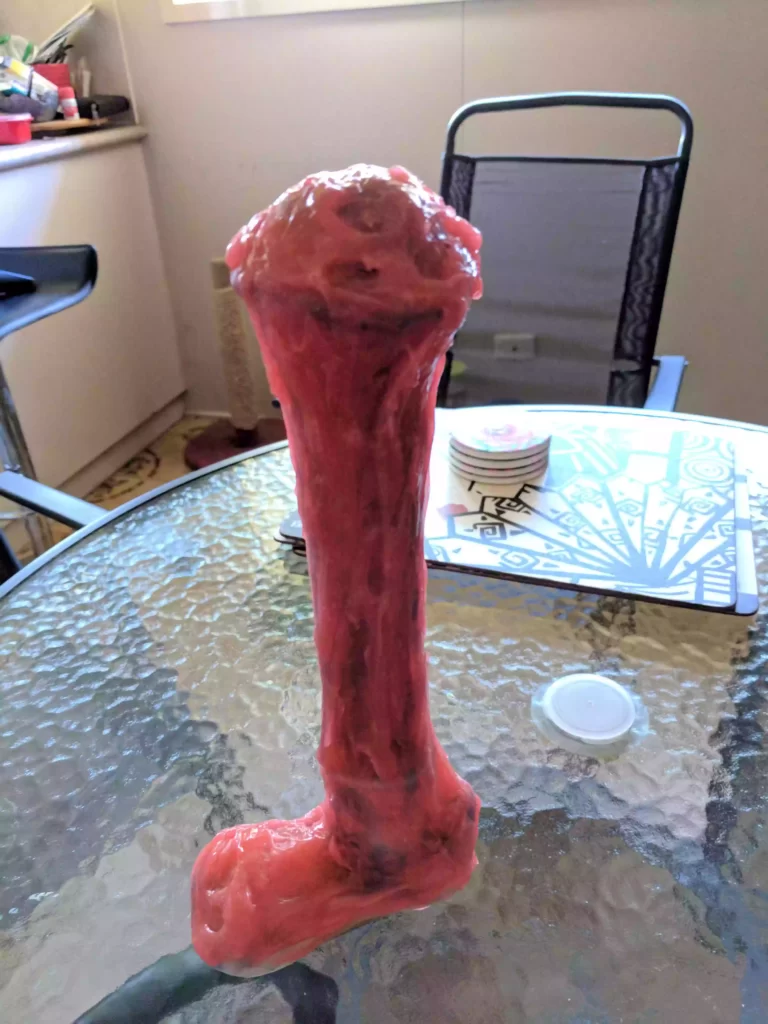 This is what happens after three coats: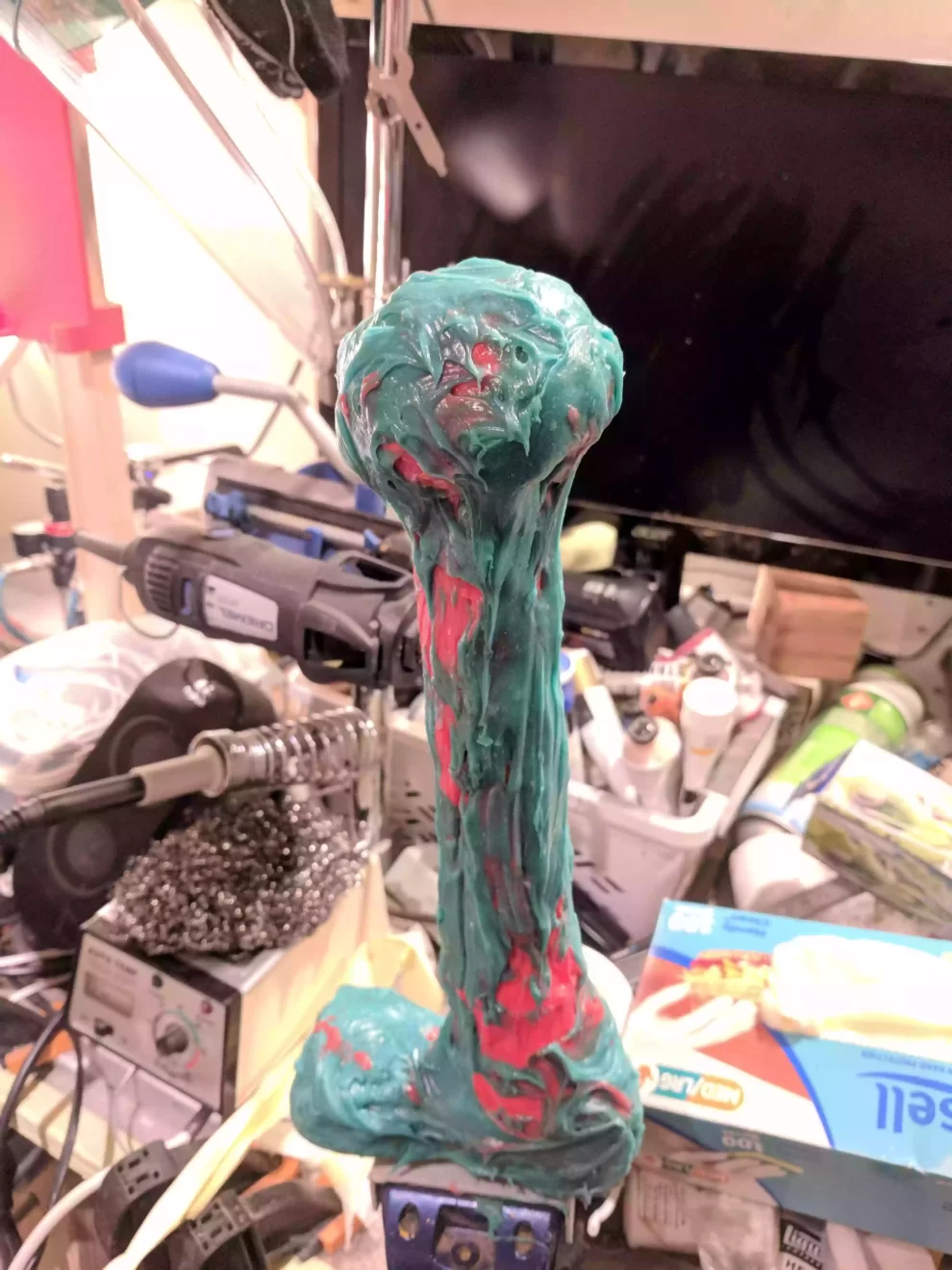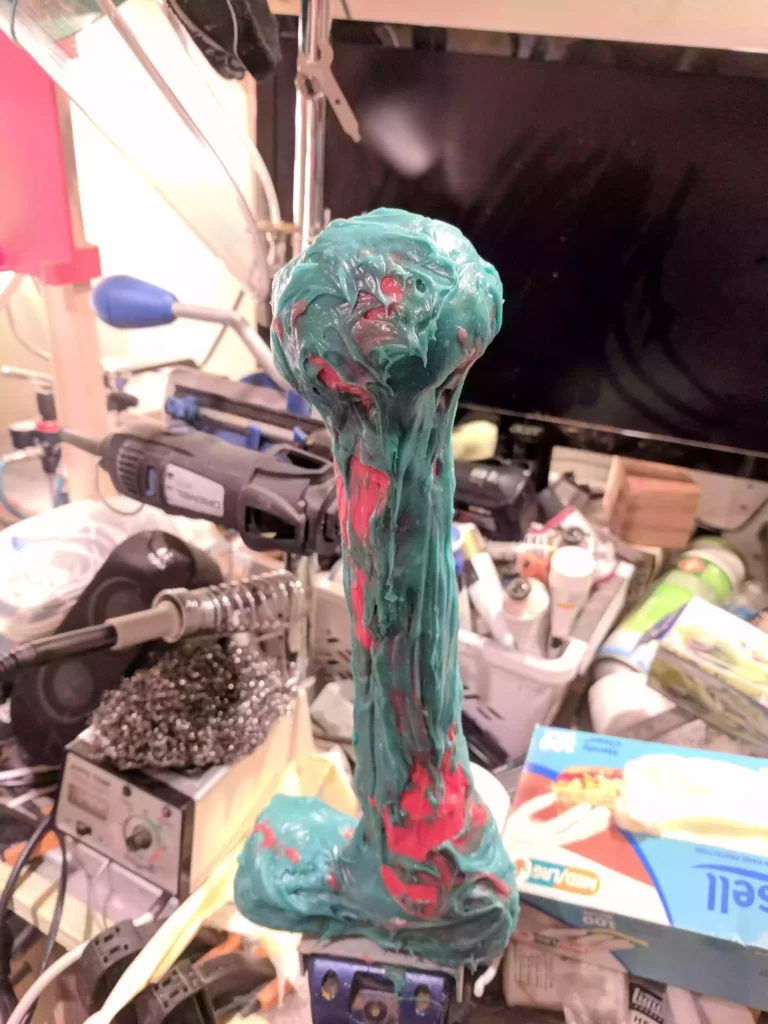 CASTING
Use a two-component platinum-curing silicone with a hardness of 30A, which has several disadvantages compared to condensate (a 1:1 mix is called an additive, and a 100:10 mix for tin curing is called a condensate). More importantly, the platinum-cured (additive) silicone will exhibit cure inhibition when in contact with a tin-cured (condensing) silicone (such as the silicone caulk used for this mold). This means that it will never cure/condense! Or the cure will be inconsistent. The second is that 30A is quite difficult for a sex toy, I prefer 15A but can live with 30A.
So how do you solve the main problem? Use a mold release agent.
Because of the high bond between silicone and silicone (pretty much the only thing that bonds to silicone is silicone), we need to use a release agent anyway.
I would use several layers of Vaseline that have been thinned (Vaseline can be thinned with a little white wine) and when you are happy with the coverage (and it has dried), you can do a very light coat with dish soap and isopropyl alcohol; just to make sure there is a barrier in every place to keep the silicone from touching. Liquid barriers (oils, etc.) don't work very well because the silicone pushes them aside and they promote the transfer of the curing inhibitor from the mold to the casting.
Another option is to apply latex to the master mold, then silicone caulk, which will provide an adequate barrier to the curing inhibitor, and then just use a regular mold release agent.
Pictures of the silicone after it has already been poured.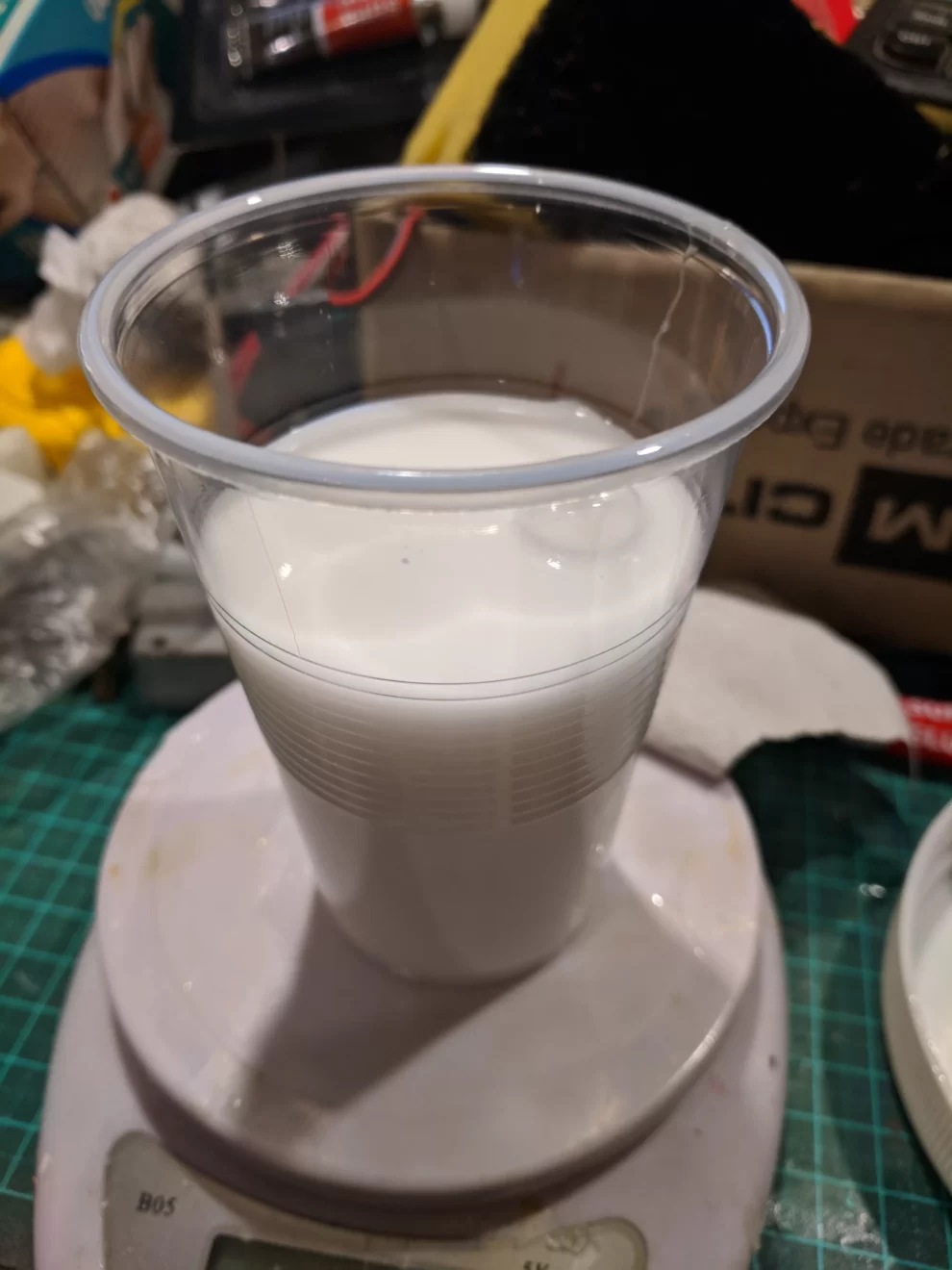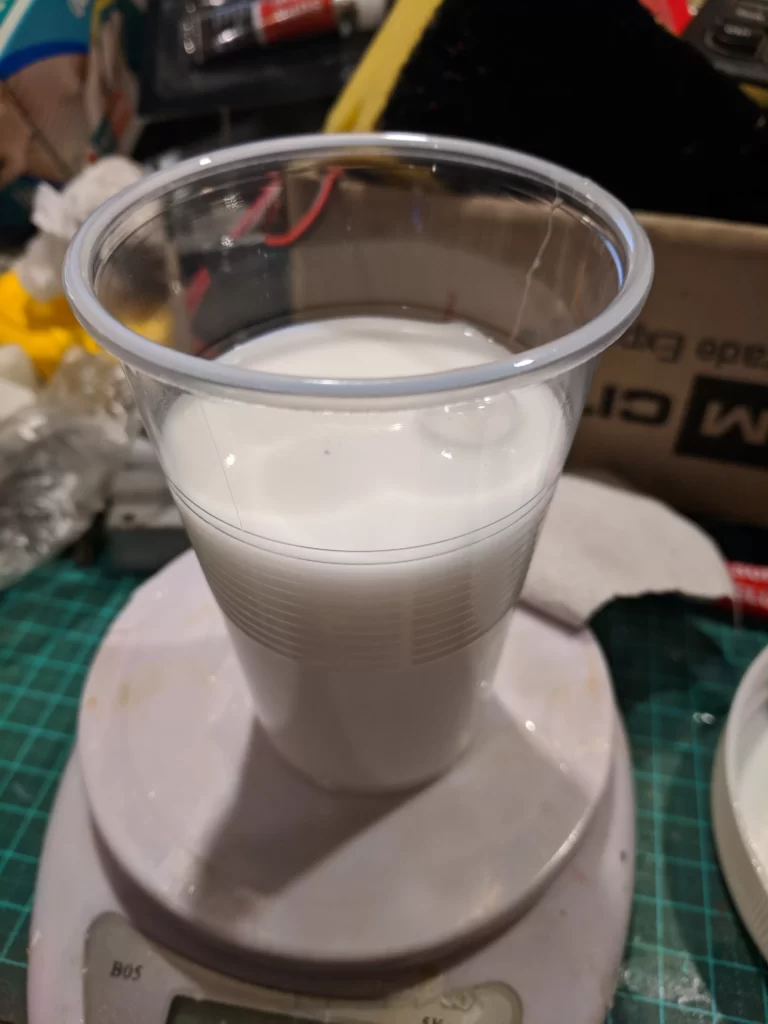 The final results are