Are you curious about those huge dildos? We have all your questions answered with this complete guide that teaches you how to insert a huge dildo safely.
If you have tried sex toys before and now you are ready to try dildos and like giant dildos, then congratulations, you have made the right choice.
There are different dildos on the market, and a safe insertion method is essential, as is how to choose the right dildo for you.
Why use a huge dildo?
Many people have this question, why use a huge dildo? So big, how to use it, will it hurt the body? There are also monster dildos that are oddly shaped.
Many people posting on Reddit and Quora asking this question have proved that most people have this question.
Using a huge dildo may weaken a partner's position in sex because huge dildos are often much more significant than human penises. There are also realistic dildos similar in size to human penises, but why go for a giant dildo?
Different people will have different views.
For example, a user named u/beaverd said, "I don't use all of them, half of them stay outside my body and are used to hold on to, so it's easy to use"
But another user, u/solidergirl, has another answer "The dildo is not for you. Some women just like its size. It's much bigger than anyone's penis in life."
But what is the point?
The "pleasure," of course, is the sexual pleasure that comes from using a giant dildo.
Like sex with a partner, it can be emotionally, physically, and psychologically pleasurable.
The sensation of being filled feels excellent.
A thicker, more extended dildo can effectively hit sensitive internal areas, such as the G-spot.
It feels good to be stretched a bit.
The feeling of trying the limit can satisfy one's fantasy.
For the user, it can bring visual pleasure.
Is size that important?
According to u/girl_world, "It's not so much about the size, but about the fullness and the visual. When you insert a huge dildo, the feeling of fullness is powerful".
Of course, the dildo is not just for women. Men can also use it on the anus.
As an expert in anal masturbators, "a huge dildo, both in-depth and girth, brings a different sensation, a more powerful psychological stimulation and greater pleasure than a smaller dildo."
One bisexual man's account says, "It was a little painful, but I felt more alive than I ever have before, and the combination of pain, pleasure, and adrenaline made it more addictive.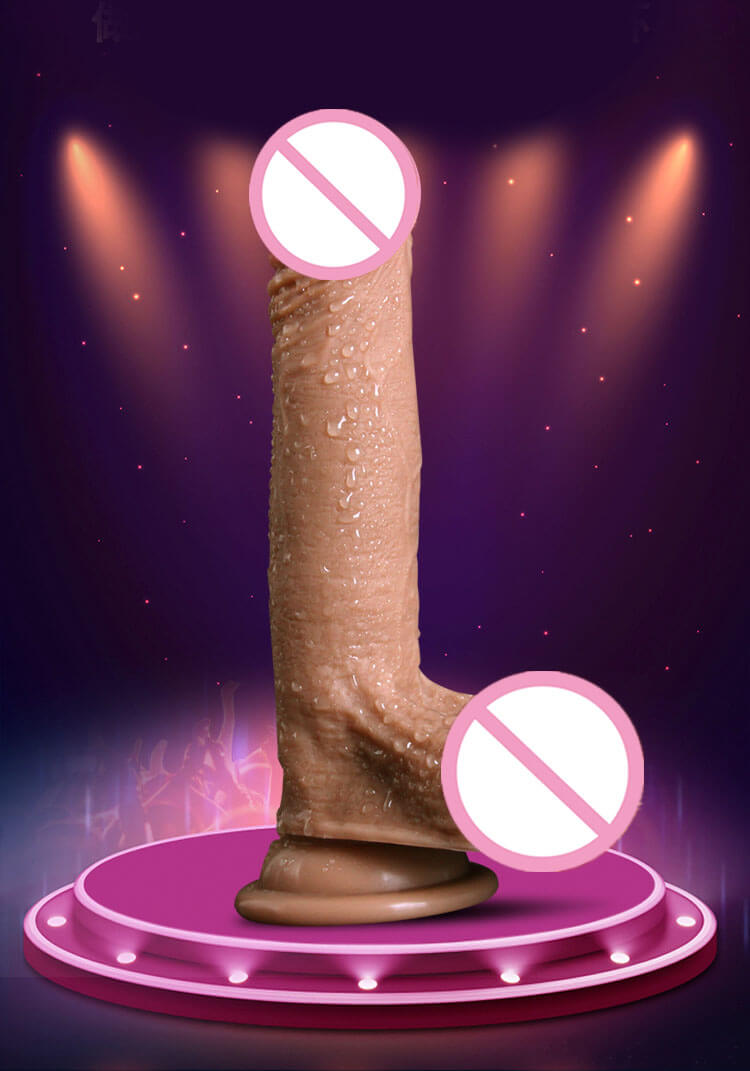 How do I take a big dildo?
Clean it first
The dildo is meant to be inserted inside the body, especially as a huge dildo, and will fill the whole vagina, so cleaning is essential. Otherwise, it will bring bacteria inside the body and cause inflammation.
That's why cleaning once before each use is a must, and you must keep it hygienic, safe and healthy every time. Especially if it's brand new, it needs to be cleaned even more.
Although all dildos are tested before they leave the factory and do not contain chemicals that are harmful to humans.
There may be a little residue, such as petroleum jelly or something similar, the release agent used to remove the dildo from the mold during production.
You can use a neutral soap or hot water to clean it, or if you are allergic to soap, you can use a unique sex toy cleaner.
Use lubricant
You can never complain about using too much lubricant.
Water-based lubricants are better, but usually, silicone dildos are more comfortable to use and will last longer too. There is also a silicone home lubricant, but it is not suitable for all dildos, so you must make sure you buy the proper lubricant for your dildo before using it.
There is also a lubricant that brings numbing ingredients. It is not recommended to use this lubricant. When you insert the dildo, numbing lubricant will make your body feel numb, which in turn may be greater penetration into the body for the body to feel less, resulting in even if it hurts, the body can not handle it.
Slowly
Take your time with it, don't rush it, even if you're not a novice.
Whether you use it with a partner or on your own, you must get yourself into shape. The more aroused you are, your body's organs will swell, and forcing penetration at this time may hurt the organs.
Start with the basics, train slowly, and then gradually master using the large dildo later. You can use it with ease.
Find a suitable position. Lying on the bed with legs spread is a better position. This time, the body can be completely relaxed. A pillow under the buttocks will be better to make the vagina more relaxed.
If the dildo comes with suction cups, you can suck the dildo on the floor and use it in a squatting position to release your hands.
The huge dildo can stimulate the position that the regular dildo can't reach, so enjoy it.
If you are using a quality dildo, then deep penetration will allow you to have a full feeling, exhilarating. Using a hard dildo, such as those made of metal, you can effectively stimulate the G-spot.
For the dildo made of glass, you can do temperature games because the glass has good heat and low-temperature resistance, so when you want to do temperature games, you can use hot water to heat it or put it in the refrigerator to cool down, no matter how the operation will not damage the chemical properties of the glass, you can rest assured that you can use.
Listen to your body
During use, if you feel pain, then stop.
A large dildo may cause mild pain and pleasure, but if the pain is too intense and beyond your body's tolerance, stop immediately to prevent further damage.
Slowly pull out
After the orgasm, when pulling out, it should also be like insertion, slowly pull out, rather than all at once quickly pull out.
First, take a deep breath, relax your muscles, and slowly pull the dildo out.
How to choose a big dildo?
The above details how to use a huge dildo, so how do you choose a large dildo?
The main difference between a giant dildo and an ordinary dildo is the size, and the rest of the dildo is not very different from the regular dildo.
The hardness of the dildo
Dildos have different materials, such as silicone, rubber, metal, glass, etc. These materials all have different hardness. Of course, the hardness of these other materials or easier to have a sensory perception.
But for the same material of different hardness, it is not easy to feel such as silicone and different hardness. And the hardness of other manufacturers may not be the same. Some manufacturers mark soft. Another manufacturer may be "medium soft."
So to figure out the hardness is tough. The best way is to squeeze the toy to feel it.
There are generally three hardnesses we can choose from.
High hardness: This hardness has no elasticity and cannot be bent, just like a metal dildo.
Medium hardness: this hardness is similar to the natural erect penis. It is not easy to bend and hard.
Mid-bottom hardness: this is 80% similar to an erect penis but firmer than a penis. It will be softer, more elastic, and can be bent.
Size
Precisely what size is considered huge? For each person may be different because each person's body structure is different. So there is no need to choose the XXXL model immediately.
The average size of an erect penis is usually between 5.0 and 6.0 inches. Most dildos are modeled after penises, so any dildo over 8 inches is considered huge.
Dildos can be long and thick, short and thick, or long and thin in size. When it comes to size, the following terms need to be noted.
Insertable length: is the length that can be inserted inside the body.
Total length: is the entire length of a dildo, including the non-insertable length.
Circumference: also known as width, is the diameter or most comprehensive part of the dildo. A huge dildo can reach 3 inches wide.
Circumference: It is the circumference that we learn in mathematics.
Dildos are made to imitate real penises, so generally speaking, the longer the dildo, the thicker it may be, but there are also very short but very thick dildos.
A very long and going very thick dildo will stretch the vagina better, so if you don't want to be hurt, just filled, then a short and thick dildo may be more appropriate.
Appearance
We are visual creatures, and a dildo can cause fantasies in humans; when you want to have sex, you salivate at the sight of it, and the view of it can make your vagina wet.
It's like seeing your partner's penis, that excited, aroused feeling. When your partner is not around, a realistic dildo may have the same effect because it also has natural textures, veins, and colors, and seeing it is like seeing your dream man's penis, and you can fantasize about it with your eyes closed.
Some people not only like realistic dildos, like sex with humans, but also fantasize about sex with animals, so some dildos made in imitation of animals are also very popular among women—for example, the dragon dildo and horse dildo.
The dragon is an oriental legend. It can soar into space, free.
The horse dildo is exceedingly large, meeting all expectations for the large.
Material
Non-porous materials are the best. Non-porous materials do not tend to accumulate bacteria. For example, glass and metal are generally non-porous materials. Silicone is also a naturally non-porous material.
The most common ones are silicone, synthetic rubber, glass, metal, etc.
Silicone is the most commonly used material because it is clean and hygienic, flexible, can be made into various shapes, and is durable.
No matter what material you buy for your dildo, it is recommended to choose a non-porous material.
If you buy a dildo with a porous material, it will be harder to clean, and even after cleaning, a few bacteria may remain.
Since You will insert the dildo inside the anus and vagina, so if it is not clean, it may bring about a urinary tract infection, anal pain, etc.
Final Thoughts
Choose a dildo that suits you, go home, and enjoy the pleasure of sexual bliss. Everyone can have their preferences. You are free to choose whether you choose a realistic dildo or a dragon dildo. No one can restrain you. Please pay attention to using it safely.