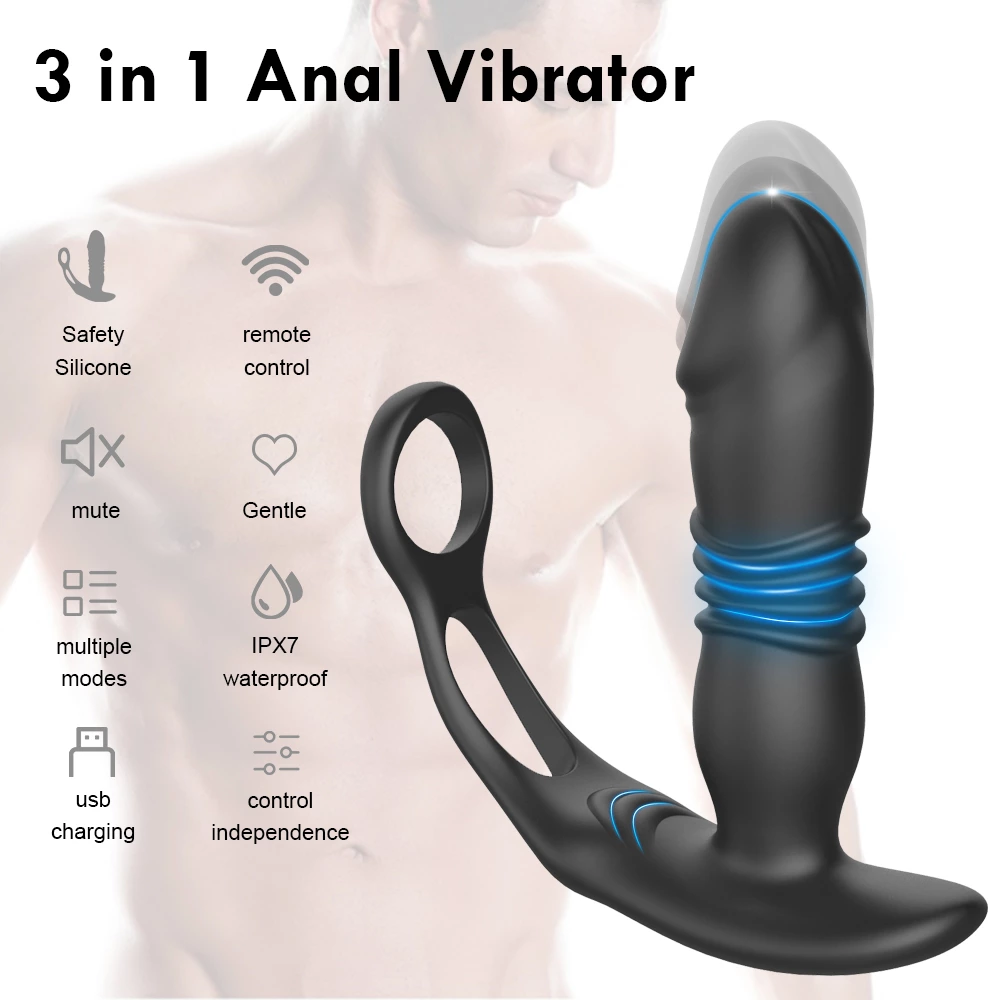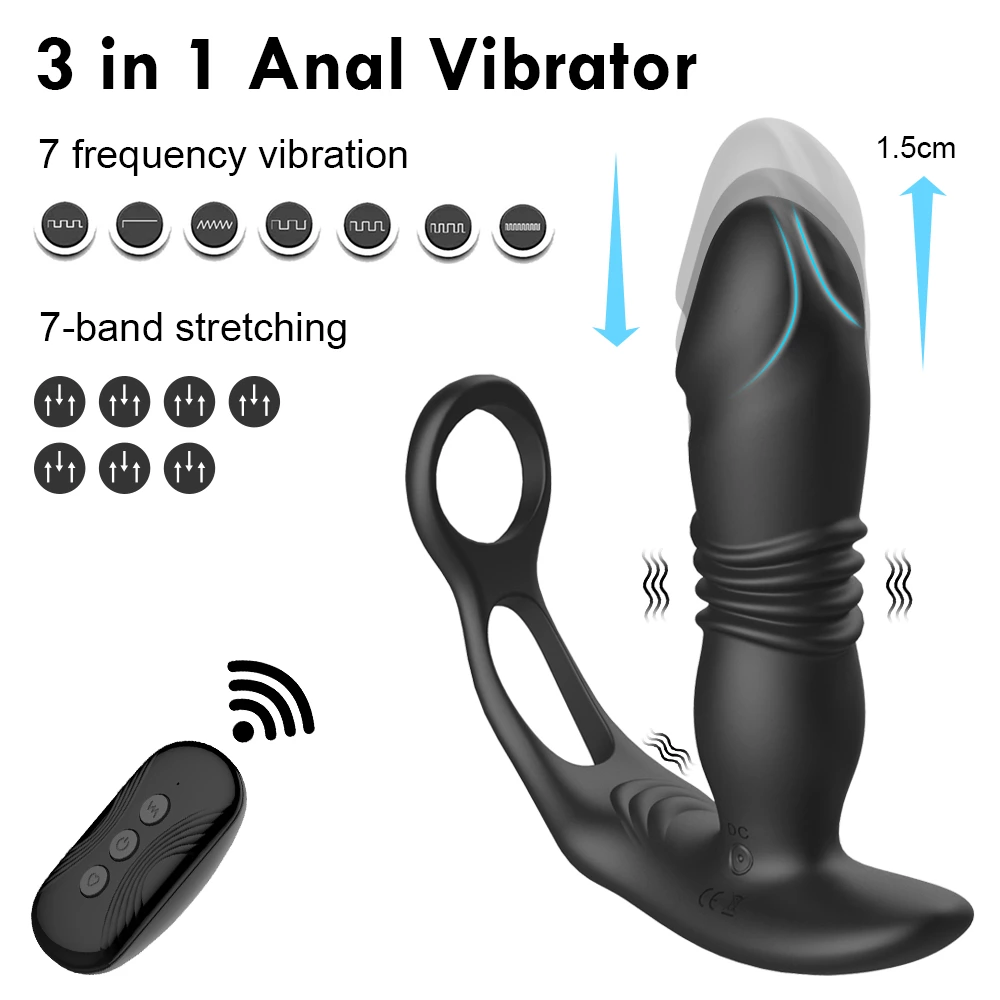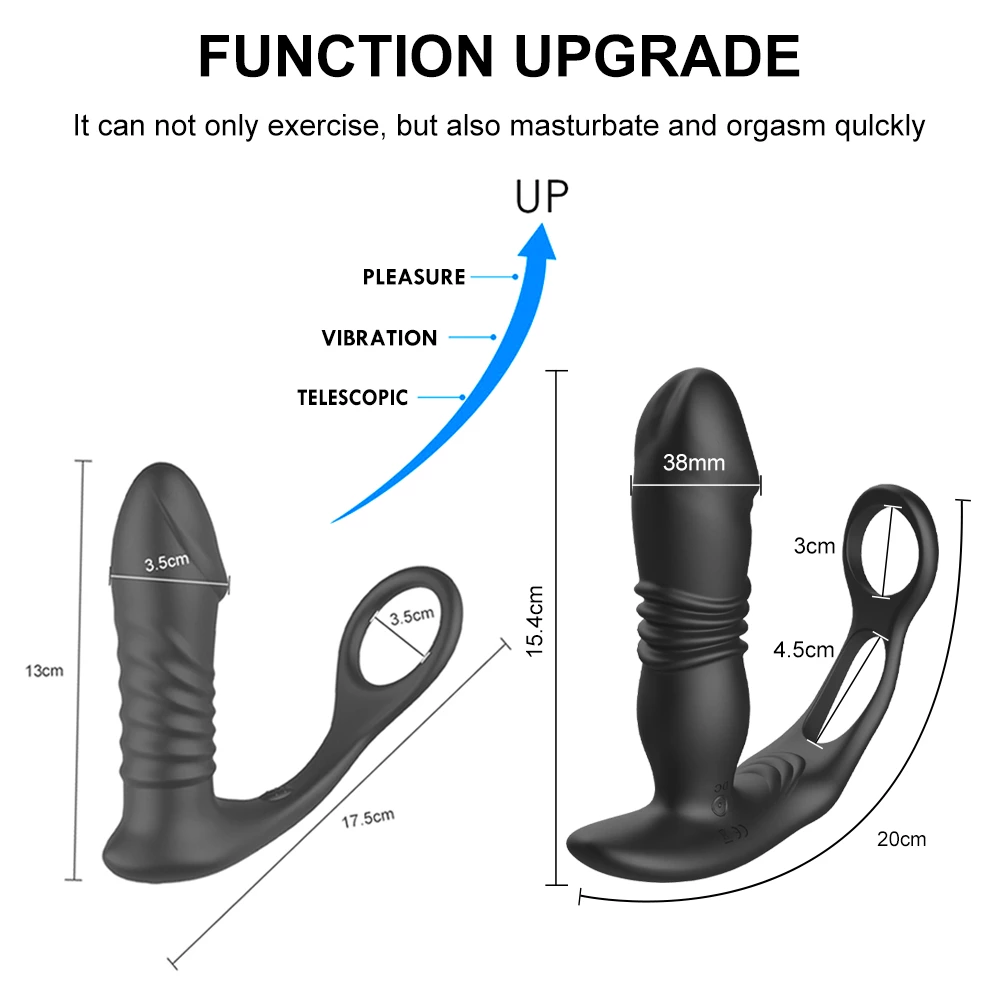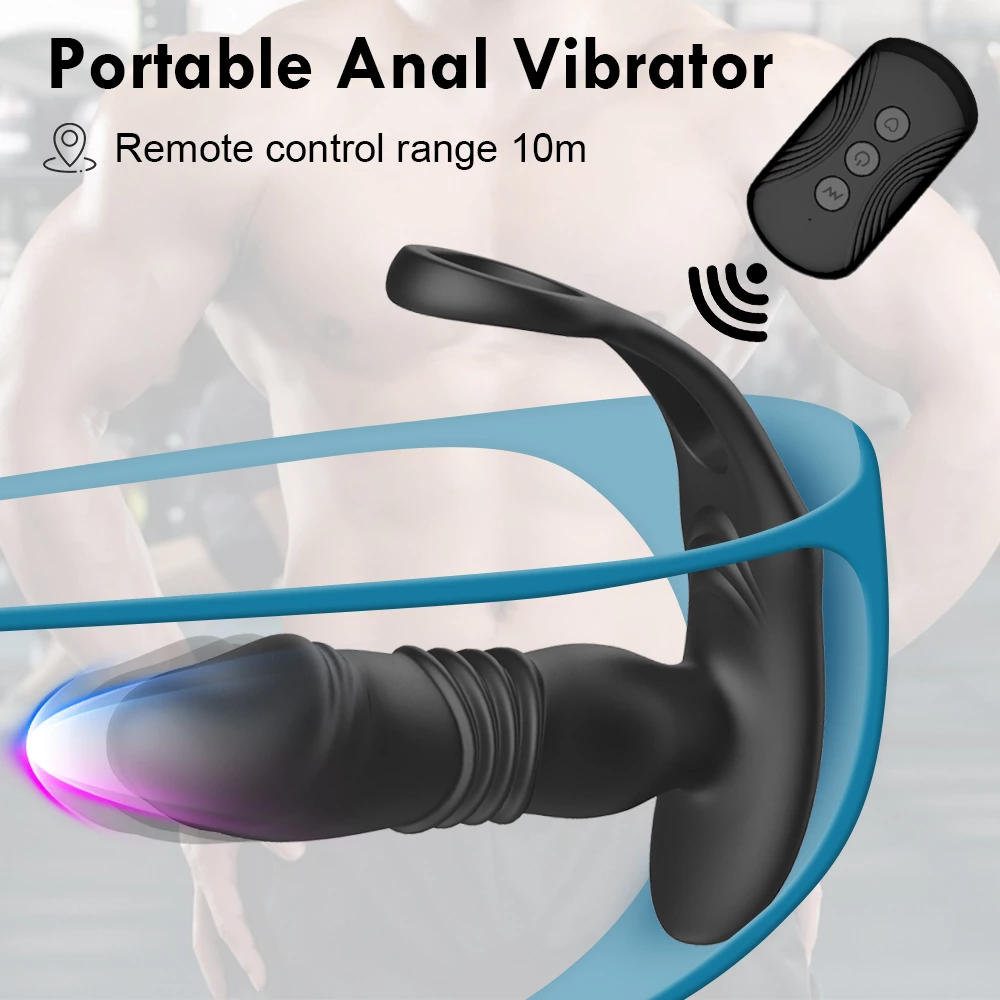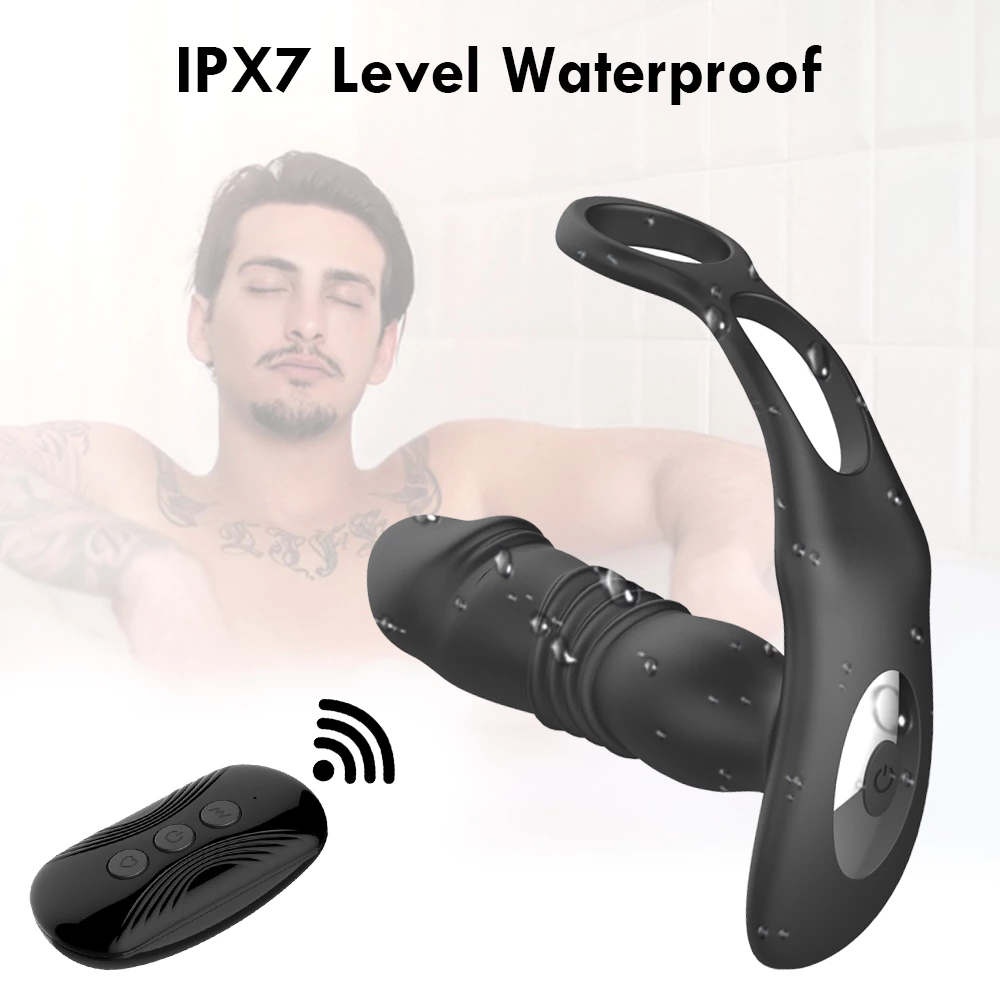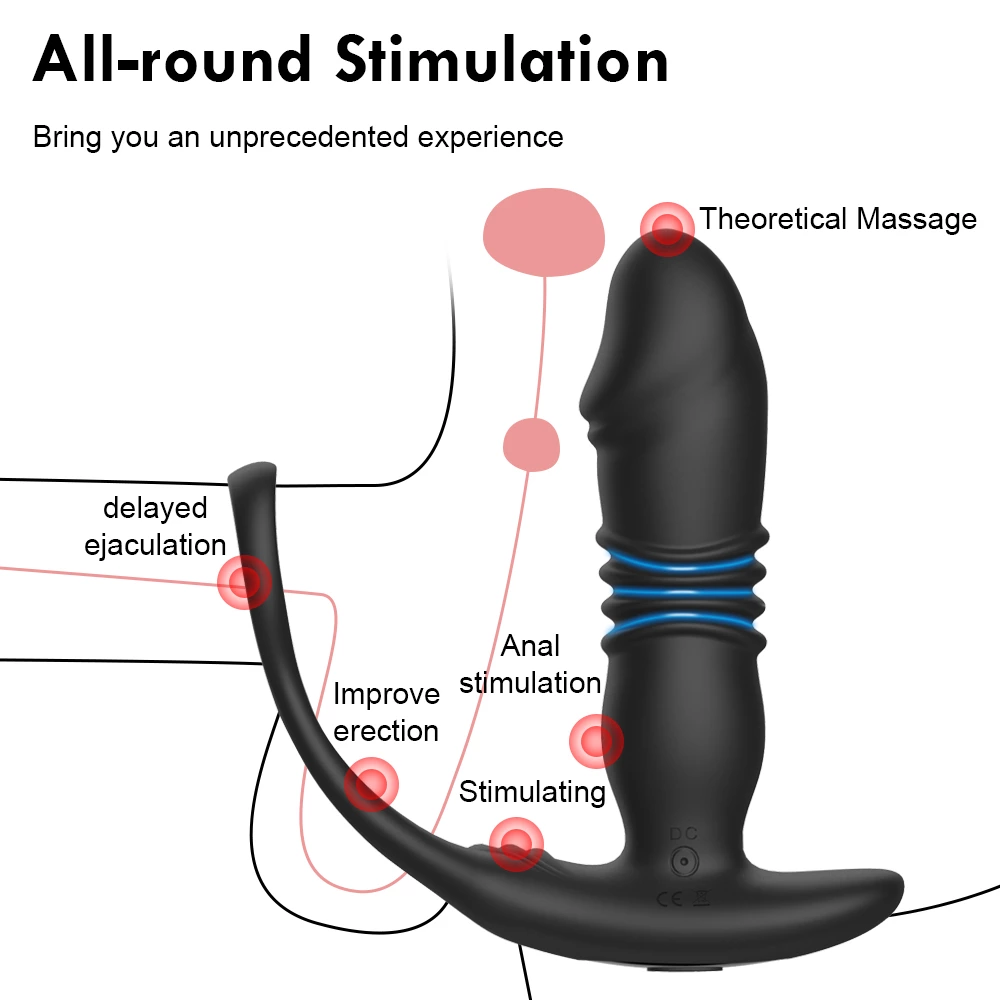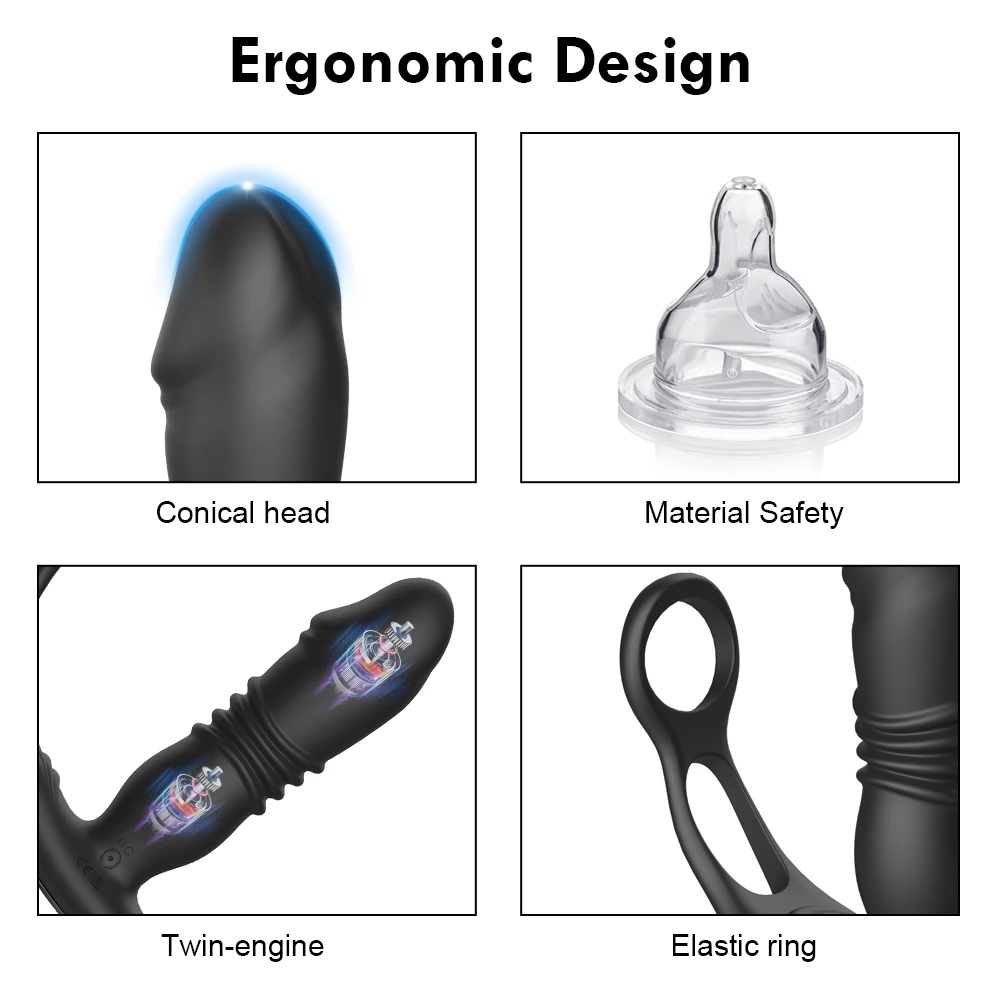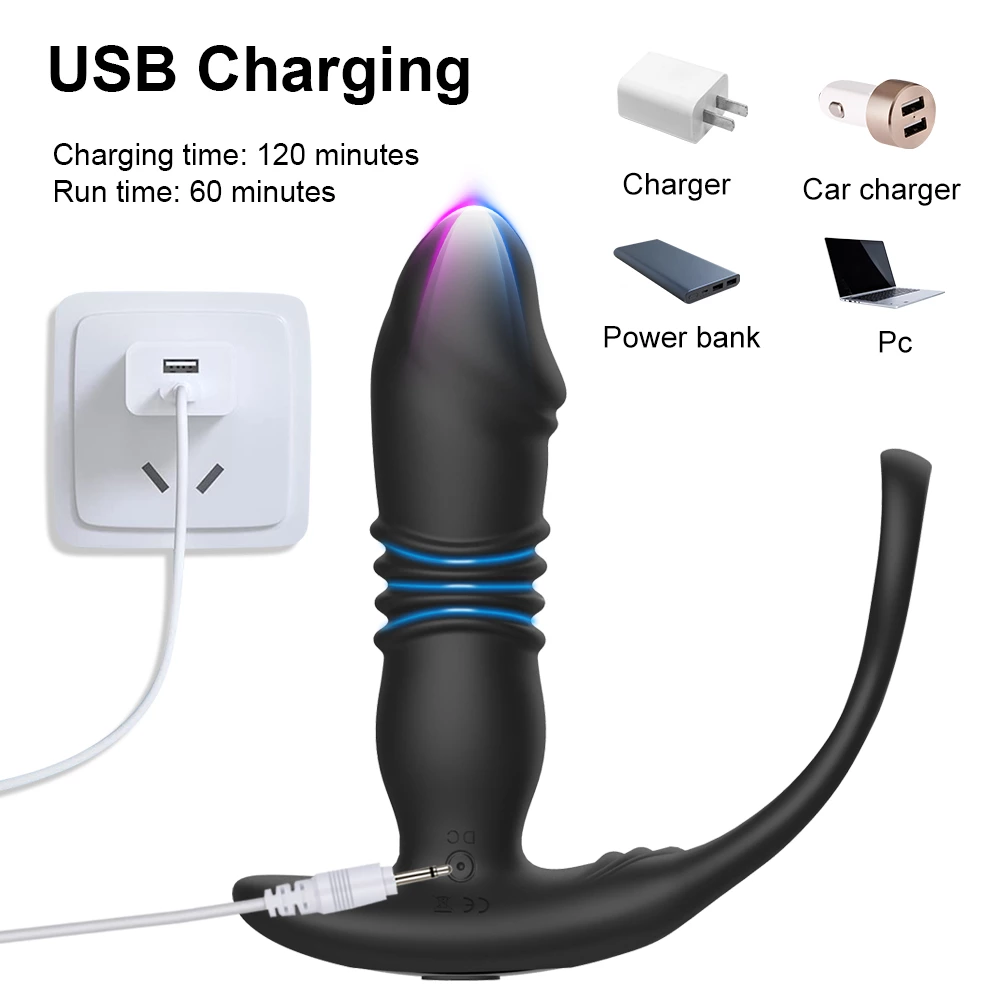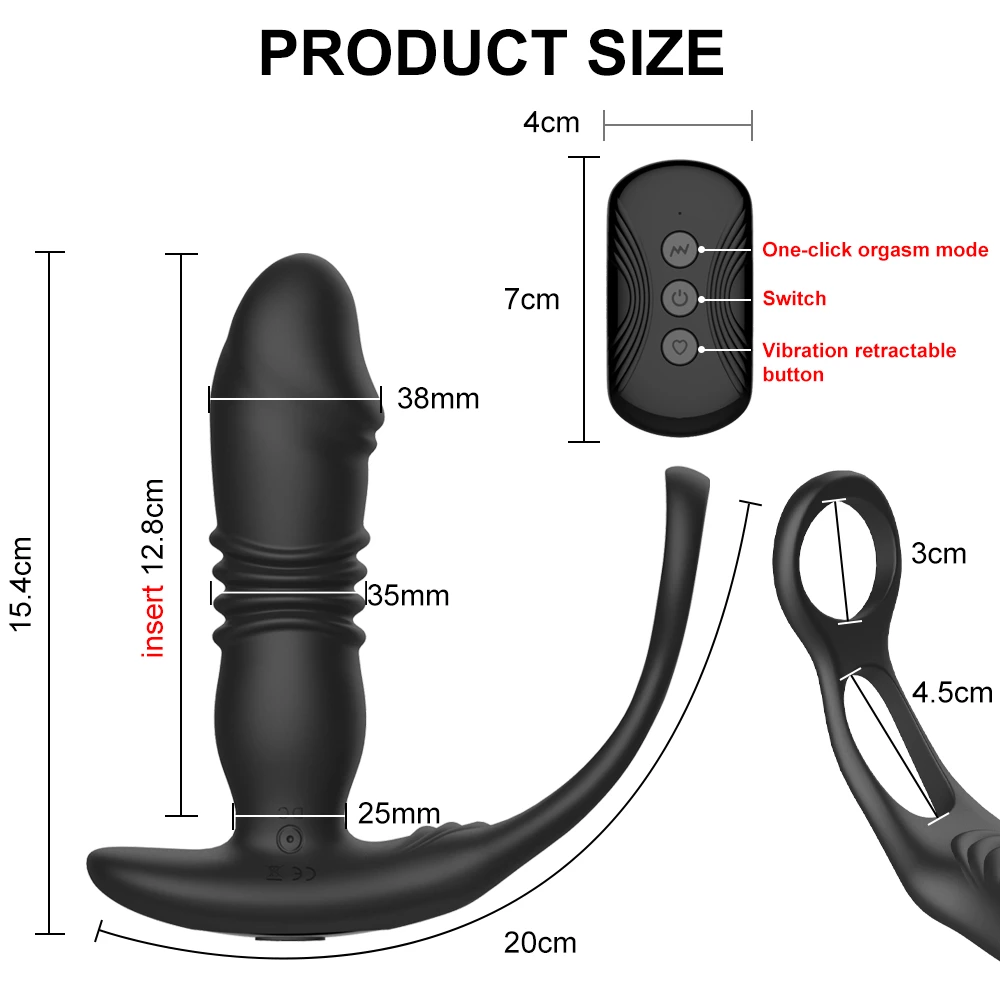 Thrusting Anal Dildo Description
[7 Strong Vibrating & Thrusting Modes prostate massagger] This Thrusting Anal Dildo upgraded high frequency vibrating speed and thrusting with the stretch of 0.6 inches will directly hit your P-spot or G-spot in the right place, dual motors and the cockring on the anal plug design to stimulate the P-spot, anal and perineum simultaneously, the anal toys also produce perineum internal and external pleasure to allow you to enjoy the multi-level stimulation and launch you into a complete and utter orgasmic orbit.
[3 in 1 – Anal Vibrator + Prostate Massagers + Cockring] Thrusting Anal Dildo designed 3 in 1 combined prostate massager, anal vibrator, and brother ring. The thrusting and vibrating prostate massager will find and hit your P-Spot with amazing stimulation. Outside the rippled base target vibrates the perineum to amplify your pleasure, the stretchy silicone Cockring helps you maintain a rock-hard erection, and all three together bring you and your partner to orgasm and enjoy the double fun!
[Sex Accessories for Adults Couples with Safe Silky-Smooth Silicone & Remote Control] Our Thrusting Anal Dildo for men and women are silky smooth and quickly warm to fit the body temperature. The solid stretchy silicone Cockring is super durable, help to maintain a rock-hard erection, and gives her some of the best orgasms she's ever had! These anal toys equip with remote control for hands-free fun, enjoy these safe anal plug toys alone or with your partner will bring an earth-shattering climax!
[Ergonomic Design and 100% Waterproof] The size of the Thrusting Anal Dildo vibrator fits the private parts perfectly and help you enhance intense orgasms during sex for male, females, and couples. The prostate stimulator toys for men allow you to enjoy double pleasure from the prostate, and the top round design on the anal plug makes it easy to enter. These anal sex toys can act as anal vibrators for men and thrusting dildo toys for women as g-spot stimulators. 100% Waterproof allows you to enjoy more wet fun.
[Toys for Mens Pleasure Sex with Magnetic USB Rechargeable & Discreet Package] The anal plug male sex toys are rechargeable with a magnetic USB charging cable, charging time 1.5H, and working time 1H. These men's anal plug sex toys will come in a discreet box. We guarantee discreet shipping and customer privacy. If you are not satisfied with the prostate massagers, please feel free to CONTACT US. We are always standing behind our products.
This Thrusting Anal Dildo vibrator works for men. This prostate massager is tuned to the experience reports of 1000 people. It helps you achieve orgasm and massage your prostate simultaneously to stay healthy and prevent prostate cancer. The dildo-shaped anal tip stimulates your prostate, and the base rocks back and forth and applies pressure to the perineum to provide hard erections and explosive ejaculations!
It can induce some pretty incredible orgasms for both men and women. For women, anal and G-spot stimulation can take her from the brink of orgasm and explode in a flash. In addition, men have the same response or can reach orgasm by stimulating their P-spot.
This Thrusting Anal Dildo vibrator has a narrow ergonomic half-moon base that fits perfectly on your ass. This sex toy mimics the action of a dildo, with folds on the surface that massage the inner walls. The curved design and smooth silicone exterior provide anti-pinch protection and reduce friction. It can be worn comfortably in the bedroom, cooking, at work, or at parties for secret time.